In this tutorial, we will see how to export the live demo from the wpmapspro.com and import it to your website.
It's easy to clone the wpmapspro.com map's demo. Just download the live demo file and import it.
Export Live Demo
Step 1: Click on any demo/example URL from the Live Demos menu.
You can click here to check all the examples – (https://www.wpmapspro.com/examples/)

Step 2: Then please navigate to any Example via clickng on the Check it Out button.


Step 3: Then please navigate to the bottom of the example and click on the Export Live Demo button.
Once you click on this button (Export Live Demo) a wpgmp-map-data text file will be downloaded.

Step 4: Navigate to Import Maps.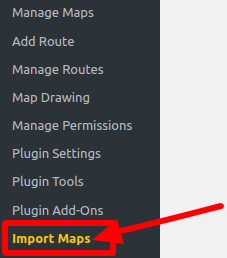 Step 5: Please upload the map code file that you have downloaded from the wpmapspro.com website's live demo page.

Step 6: Click on Import Map button.

Step 7: Map was successfully imported on your website. Please navigate to the Manage Maps screen and copy the Map Shortcode and paste it on your page.


Related Tutorials:
Was this article helpful?