Plugin Features
Our WordPress map plugin offers a range of features, from basic to advanced, that are highly flexible and customizable. With an intuitive backend, website admins can easily adjust both UI and functionality to fit their needs.
Posts on Google Maps
Showcase posts, pages, or custom post types directly on your maps.
Display Listing & Filters
Admin can display beautiful listing along with filters below map.
GDPR Compliance
Seamlessly integrate with popular GDPR plugins, ensuring user data protection and legal compliance.
Form Submissions
Show forms submissions on maps. Contact Form 7 & Gravity Fields supported.
Page Builder Supported
All major page builders supported. e.g WPBakery, Elementor, Beaver, Divi and Thrive
All Themes Supported
Tested with popular themes. e.g Avada, Astra, Divi, SeedProd, Ultra & OceanWP
Custom Fields Utilization
Show custom fields to display additional data in info windows. Advanced Custom Fields Plugin (ACF) Supported.
Custom Filters
Let users filter locations by custom fields, Taxonomies, Locations Fields.
Routes & Directions
Easily create and display multiple routes on Google Maps for visitors to access directions.
Import Locations
Quickly add numerous locations using CSV files, streamlining the process and saving you time.
SEO Optimization
Maps are optimized for SEO, ensuring they contribute positively to your site's search engine ranking.
Rich Infowindow Content
Incorporate multimedia content like images, videos, and links in your infowindows for enhanced engagement.
Store Locator with Multiple Locations
Seamlessly integrate custom locations, posts, custom post types, and custom fields, enriching your store listings with essential information.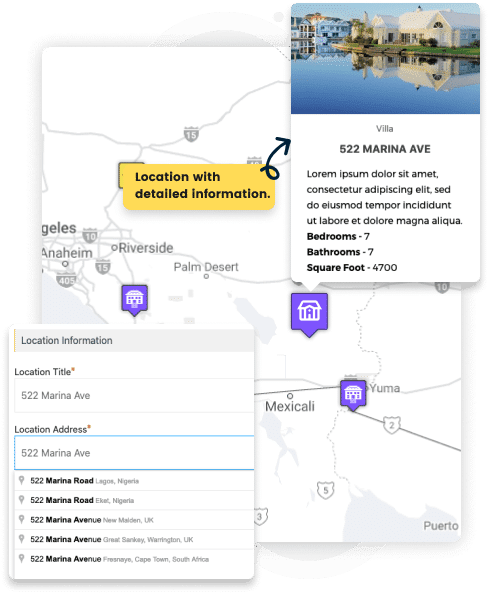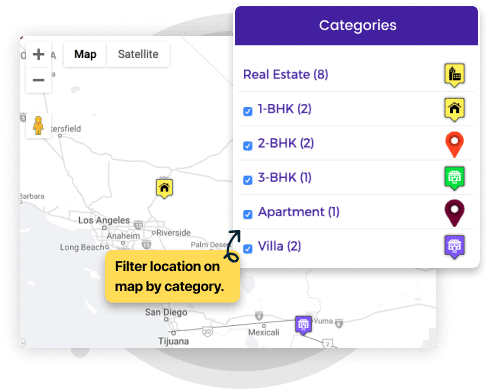 Filter Locations by Category
Organize and categorize your map locations, making it effortless for users to find specific destinations.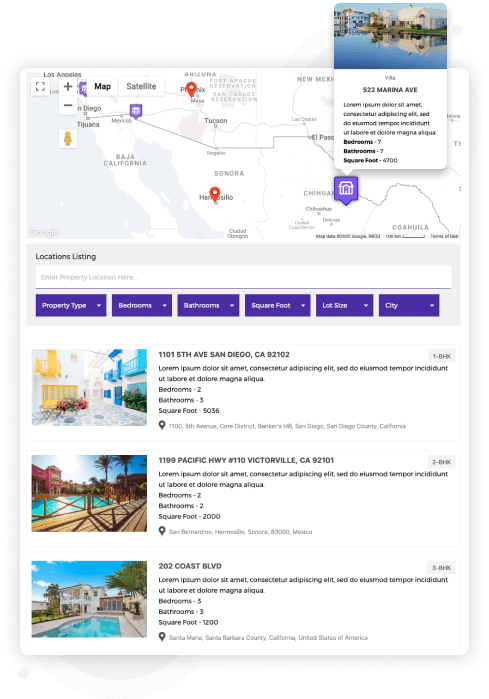 Customizable Listing with Google Maps
This powerful tool lets you filter, sort, and search for posts or locations based on various criteria like zip code, address, title, and categories. Give your visitors the power to explore and discover effortlessly.
Dynamic HTML Content Display
WP Maps Pro allows you to showcase dynamic information, images, videos, and links within info windows.
Create Custom Filters
Whether it's custom fields, taxonomies, or location data, you can create multiple filters to give your users a seamless search experience.
Multiple Templates for Listing Designs
Elevate your listings with customizable map designs! Select a design that suits your style and see an instant preview in the backend. Make sure your listings look stunning on the frontend with ease.
Responsive By Design
Any listing template that a site admin chooses has an adaptable design and will look good on all devices.
Setup Listing Content Easily
Using dynamic placeholders, site admin can display all the information of location / custom post type data very easily in the listing including title, description, featured image and custom field values.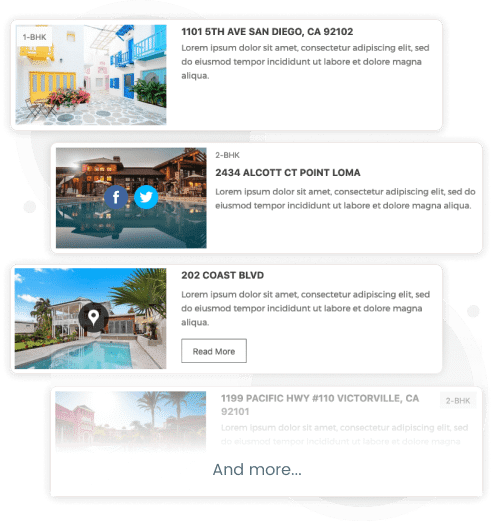 Multiple Infowindow Design
There are multiple info-window design templates available in back-end. Website admin can choose any design of his / her choice. Infowindow UI is also customisable.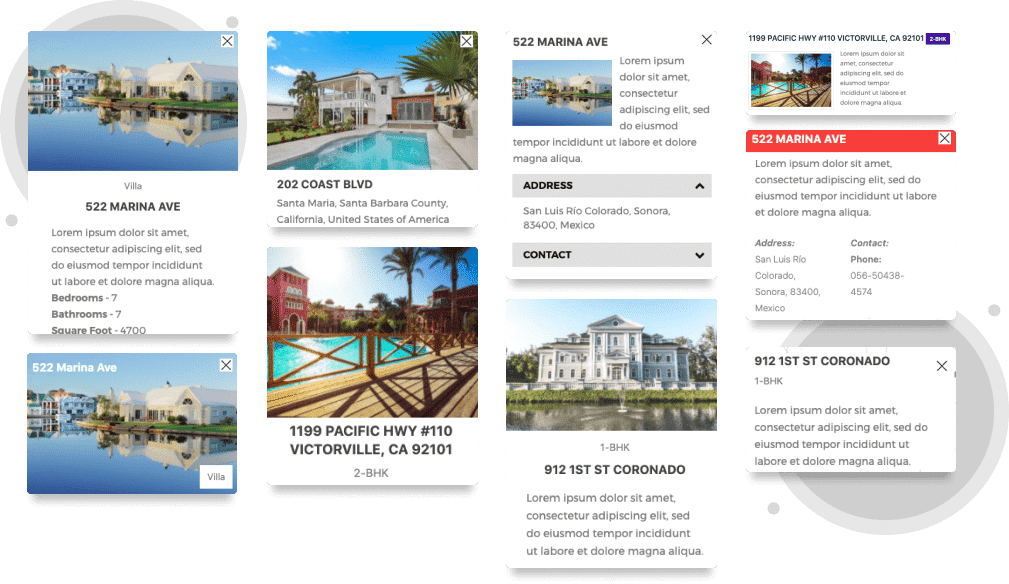 Show Multiple Routes & Directions
Site admin can easily create routes between locations and can display them on map. The UI aspect of drawn route can be easily customised from backend.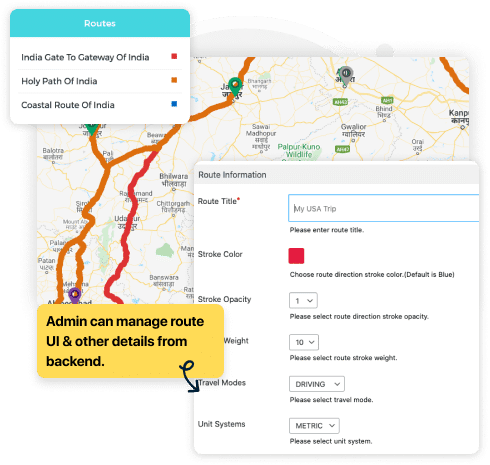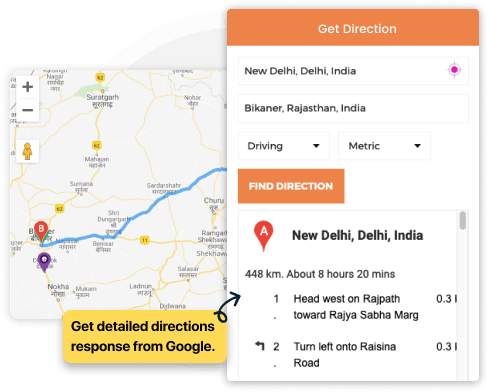 Show Directions with Instructions
With our plugin, site visitors can easily find directions with full details between the two locations provided. Visitors just need to provided start location & the end location that's it.
Search Near by Amenities
Allow users to find out near by amenities around a particular location with respect to given radius of distance.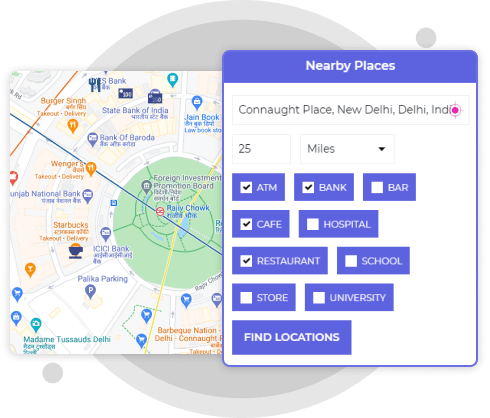 Draw Interactive Shapes
Website admin can easily draw shapes on the map in the back-end and can display it on front-end. Drawn shapes can open an info-window just like markers.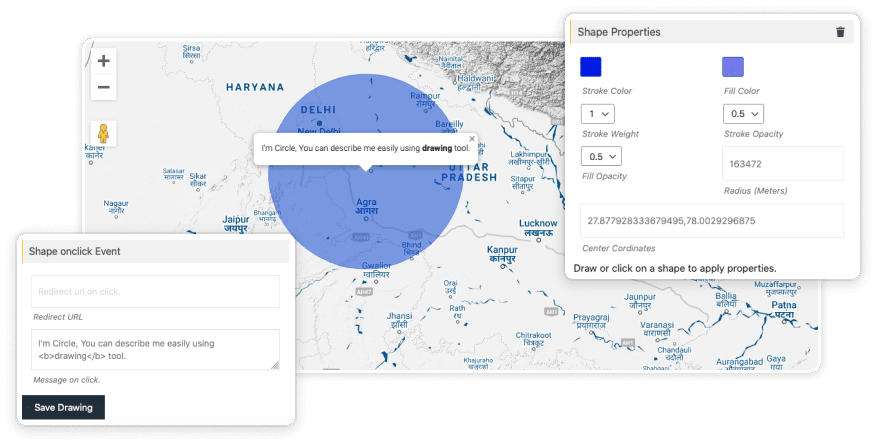 Use Marker Cluster for Multiple Locations
Display groups of markers as clusters on Google Maps at certain zoom levels. If you have lots of locations on a map, it's better to use this feature to organize locations in form of cluster and to display them visually better on map with help of cluster image. them and demonstrate better visually.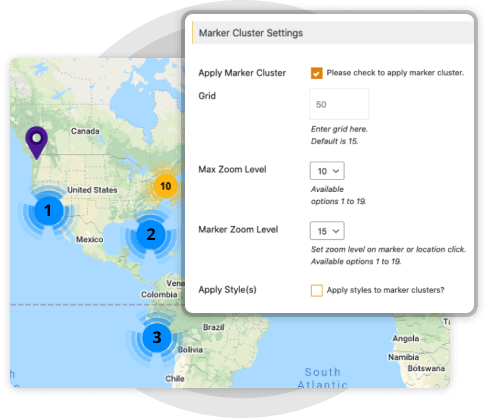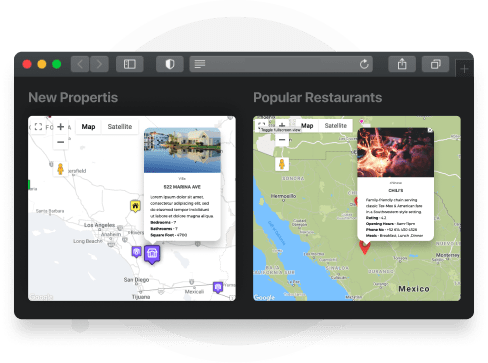 Show Multiple Maps on WordPress Pages
WP Maps Pro offers the flexibility to seamlessly integrate multiple maps, each tailored to a specific purpose.
Streamlined Import and Export
Simplify the process of managing your location data with WP Maps Pro's intuitive import and export capabilities.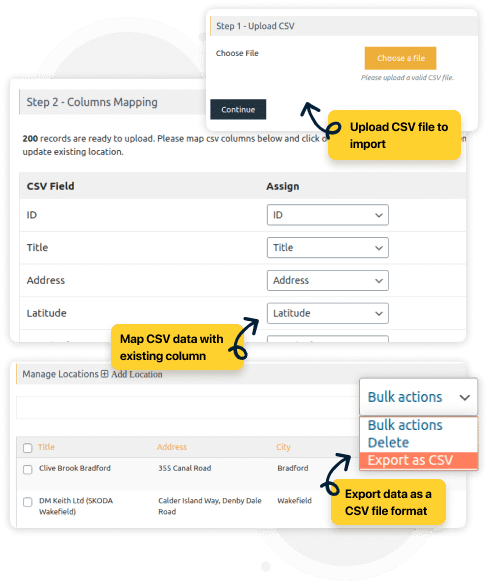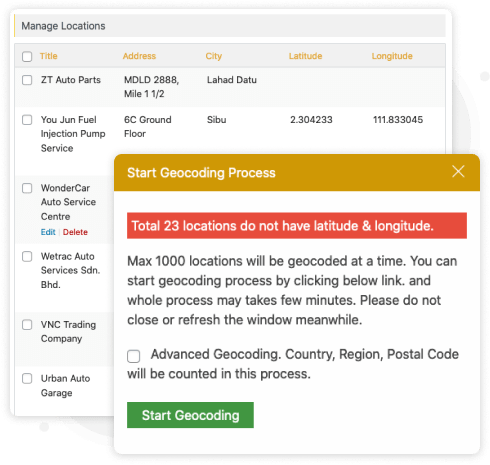 Automatic Geo-Location for Places
If you omit latitude and longitude in your CSV file during the import process, our plugin will seamlessly geo-locate the locations for you.
Customizable Google Maps
Easily adjust map types, zoom levels, center locations, and various other attributes according to your specific needs, all from the intuitive backend interface.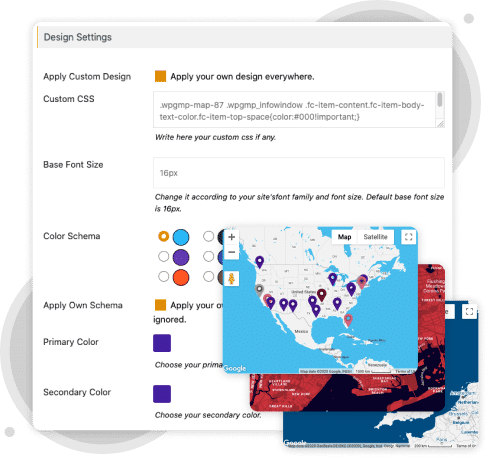 Explore Over 18+ Free Add-Ons
Unlock a world of possibilities with WP Maps Pro's extensive collection of free add-ons.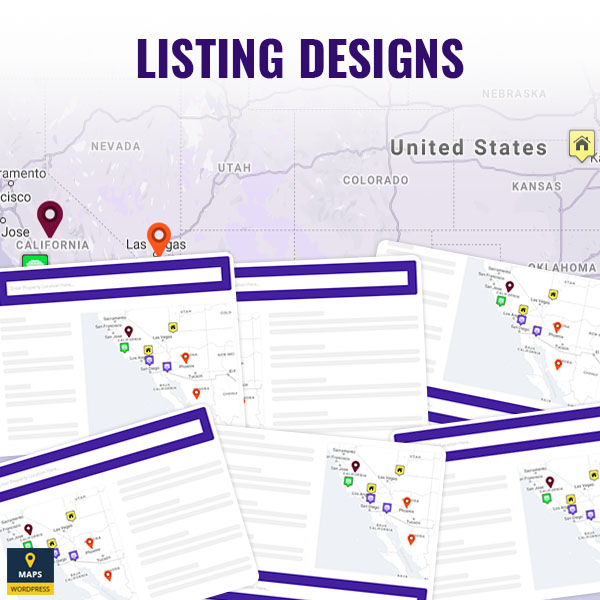 Listing Designs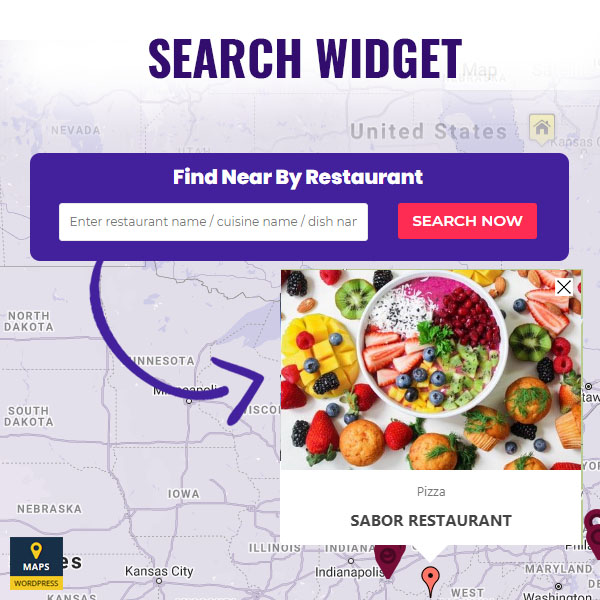 Search Widget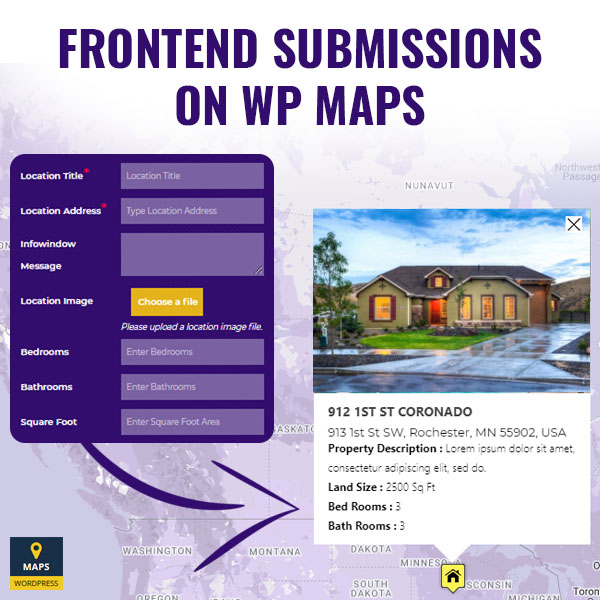 Frontend Submissions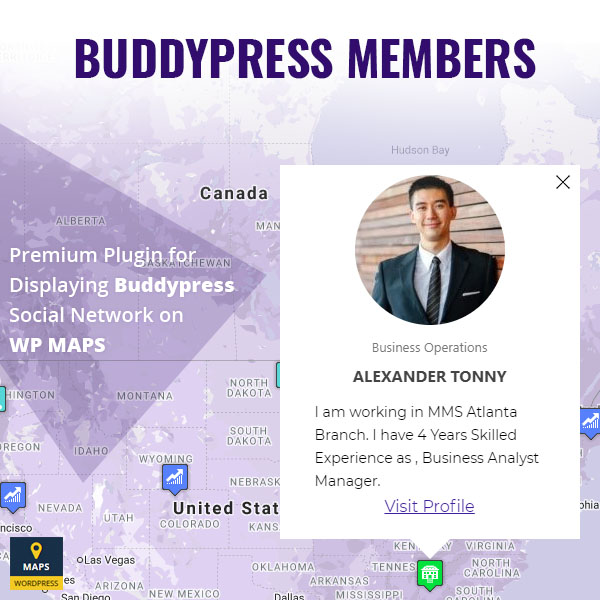 BuddyPress Members

Elite Author
"The Maps Pro plugin is the most complete and easiest to use when you need to include the google maps in your websites. I've used the plugin for a long time and I'm very happy with it. Not only its quality is the best, but its support (specially, for non-programmers like me) is wonderful. Thank you Flippercode for an excellent product with great support."
LulioSr
"This plugin is helpful in so many ways I bought this for one of my client. I can literally can use it for many other purpose though. The documentation and usage of the plugin is so clean that you will never get lost. Moreover the support team is so quick with response and resolving issue they even helped me to add a feature in the plugin within 30 mins. I am looking for further features and updates.
Thank you very much flippercode. :D"
Bhands
"This plugin is BY FAR the best map plugin you can buy anywhere on the internet today. You have so many ways in which you can customise the layouts and features, and the HUGE thing about that is, you really don't need to know any coding – it literally works right out of the box.
So well written, and organised from an Admin point of view, and the logic is simple but powerful.
5 Stars for ALL reasons to buy this script! Highly Recommended."
manamedia
"I installed MapsPro and faced some issues with CSS and being a no coder asked for help to Help Desk. I have never seen such a fast and professional Technical Support. They are the best. Regarding MapsPro it is worth every penny you pay for it. Recommended at100%."
AquiestaPuertoRico
"Very comprehensive plugin with numerous features. Unlike other similar plugins only this one did the job. High level of customization and if something still fails, the support team is always fast and very helpful to solve your problem or question. Endless possibilities! Highly recommended!"
sarah_depauw
"Awesome, easy and fast support.
Easy to use but powerful Plug-In. Best feature: Geo Coding for adress only Locations.
Covers all what we want and more."
Allco
Not Finding What You Need? Let's Customize It!
Our team is committed to tailoring our plugin to match your unique business requirements, and we value every client request.