You can easily create routes on Google Maps to your visitors. You can show your routes with your own colors, line width and opacity on google maps, and display routes direction.
How to create routes
Note : Before to create route , Make sure that you first assigned location using Add location.
Step 1 Click Add Route from google map plugin. The Route Information window will appear.
Step 2 Enter the Route Title, Start Location and End Location to create a route.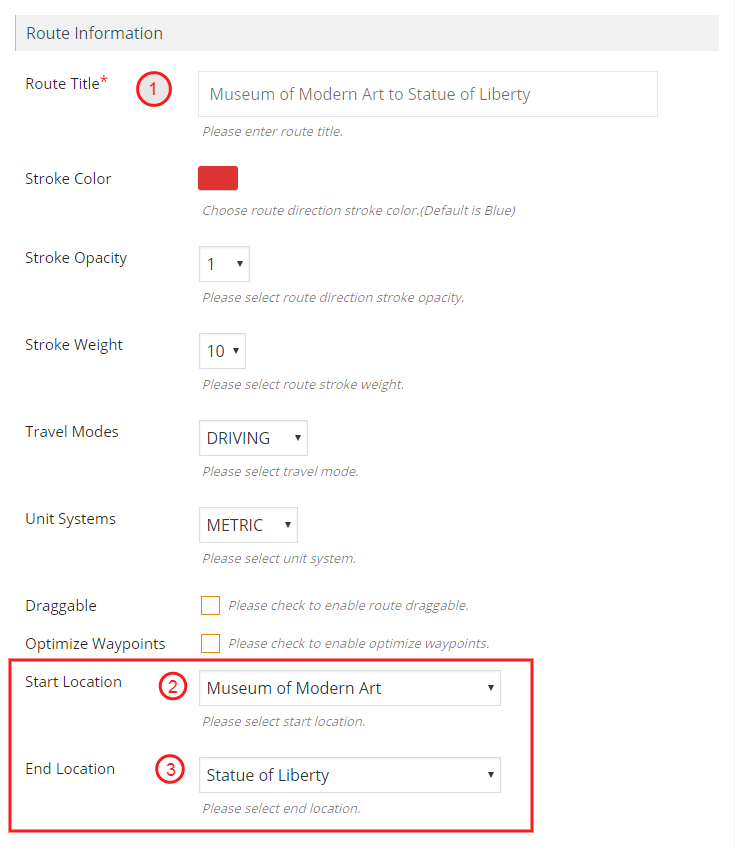 You can change Route Direction color by Stroke Color and change the Stroke Opacity and Stroke Weight of direction stroke.
Travel Modes-For the calculation of distances, you may specify the transportation mode to use. By default, distances are calculated for driving directions.
Step 3 Click Save Route.
Step 4 Then Go Add or Edit Map and scroll down to 'Route Direction Settings' section.
Step 5 Enable or tick 'Turn On Map Route Directions' tab and select the map route to display in your map.

Step 6 Then click Save Map.
You'll see the following routes tab on the map.